One of the biggest reasons couples hesitate to book a session is because they just don't. Know. What. To. Expect. And that unknown creates anxiety, doubts, and worry. THAT SHOULDN'T HAPPEN!! Whether it's an engagement session, an intimate in-home, lifestyle session, or an adventure session at a place that's special to you & your babe, anxiety of the unknown should not be a reason you decide not to book! hint: you should NOT feel like Ross is feeling in this GIF: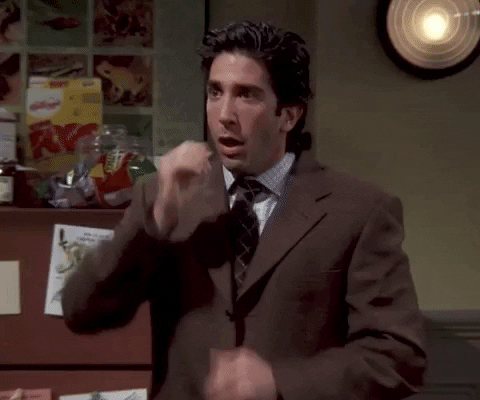 That's why I've written this post, for YOU: to guide you through what to expect from a session with me, and HOW exactly you can prepare for it + help me make it the best possible experience for ya! Planning for sessions can be intimidating, so I'm going to walk you through how to plan your outfits, what the "posing" situation will be like, and why you're really not going to be as awkward as you think you are. So relax, get a glass of your favorite drink, and hopefully I'm about to answer questions you had in your mind before you even asked me them!⤵
→ What should we expect? What's going to happen?
I always want your session to be an EXPERIENCE for you, not just a "photoshoot!" My goal is to create a comfortable & safe environment where you feel like you're able to be vulnerable with me, and in turn, I'll be 100% vulnerable with you. I want to create an atmosphere that allows you to show your true, raw emotions so that I can tell your story in the most authentic way possible. I don't just want to capture the "pretty" stuff. I want the tears. The eye rolls at the sarcastic comments your partner made. I want the tripping-on-rocks together photos that I always get when I ask people to run in their heels (don't worry, I'll always get a picture of it happening).

It's OKAY if it feels awkward at first. That's normal. At the beginning of our time together, I'm just going to simply talk to you and get to know you more. I'm not just going to say "hi," shake your hand, and whip out my gear and tell you how to pose. I'm going to give you hugs, get excited, and just TALK and hang out with you. Once I feel like we're ready to start shooting, I'm going to give you actions & prompts, rather than poses. I'm sorry, but I just don't want the awkward prom poses – that's not my thing anymore?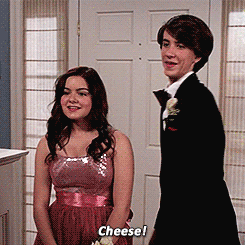 Before your session, I'll have sent you 1-2 questionnaires that will help me get to know you better + make sure I know how to foster the best atmosphere for you during our session. Are you guys more extroverted together? I'll keep you moving, laughing, and get shots of your big laughs and excitement. More introverted? I'll focus on creating a safe space where you feel you can be intimate, and I'll work on capturing more of those soft, quiet moments together. If you feel uncomfortable at ANY time, all you've gotta do is tell me! Because we don't want that. We want your session to create new memories for you both and to tell your story – not just be some poses for you to look back on and think, "I don't even remember what I was feeling in that photo."

I'll also have music playing during our session! I've got some good jams to set the mood & keep you comfortable, and the music is also awesome because I can give you prompts that lead to more intimate moments or sweet whisperings in each other's ears – and the music will drown it out so that I don't hear! I want to create moments for you where you feel 100% comfortable being yourselves, so I'm going to talk to you and keep you moving & having fun throughout our session. I'm going to be your biggest fan and I'm going to tell you ANY little compliment that comes to my mind during our time together, so be prepared for me to basically be a cheerleader on the sidelines of your makeout session (kidding…but also not)?
→ What in the world are we supposed to wear??
This always stresses couples out, but I don't want it to!! Here are my biggest tips for when you're planning your outfits for your session!:
EARTH/NEUTRAL TONES* for the win. I'm talking deep, rich yellows, burgundies/dark reds, greens, oranges (MY FAVE), blues, black, whites, beige, etc. We want your outfits to bring out the landscape & environment you're in, but to not distract from the emotions we're going to be capturing together! One thing to keep in mind is that you don't want to blend in with the environment around you: if we're shooting in an environment surrounded by evergreens, don't wear green! If we're shooting in a desert-y area with tall brown grass, don't wear light beige! Go instead for a darker orange or mustard yellow if you want to stick with that color palette!

No distracting patterns!

I ALWAYS love flattering stripes or simple little flowers; just nothing that'll take away from the emotions/environment as I mentioned before. I know you might love the plaid/flannel you just bought, but those little lines can create some WEIRD effects on camera! See the Pinterest board below for examples.

Wear something you're COMFORTABLE & CONFIDENT in!!

I want you to feel like yourself during our session, so don't wear something that doesn't feel like YOU. Wear something that you love, that makes you feel amazing, and that'll bring out who you are, not something you saw on Pinterest and hate wearing, but that you THINK is cute!

Create a variety!

If you're only doing a one-hour session, we'll typically only have time for you to wear one outfit. But if our session is longer (an engagement or adventure session), bring two outfits! We want to create a variety if we've got a longer session so that we don't end up with you in the same outfits in every photo. I suggest that my couples bring one more formal outfit and one more casual outfit, because that creates two totally different looks, but it's always up to you! If you're not really a formal, couple, don't feel pressured to wear a ballgown and a suit!?
PINTEREST = A LIFESAVER. I've got a board* ALLLLL ready for my couples to look at for all the inspiration you'll need! It's got outfits. Accessories. Shoes. All that good stuff. Two brands I ALWAYS recommend for gals are Lulu's Free People. THE BEST for neutral tones and all the pretty things!?? A ton of my pins on the board are from these two brands, so you're good to go.
To sum it up: earth tones + Pinterest inspo + confidence.
Easy. Told you so.
*Click here to see my "Outfit Inspo" Pinterest board!
→ What about makeup/accessories*?
I always tell girls to focus on bringing out their natural beauty and being CONFIDENT. Whether you're most confident without makeup, with a little mascara, or with a full face on, DO. THAT. Wear what you feel the best in. If you decide to wear a full face of makeup, add just a little extra contour/shaping to bring out your facial features in the best way possible! On camera, makeup can become a little flat, so we want to add a little more definition to your beautiful features than you normally might! Not quite this extreme, though:
As far as accessories go, I ALWAYS loooove myself a good pair of statement earrings, a necklace, or a cute hat. It's helpful to YOU when you have something to fiddle around with during sessions and to use in the prompts I give you, such as a hat, and accessories create many more opportunities for a variety of looks (same with a cute jacket/cardigan or anything like that). Keep your accessories simple, but let them add a good accent to your outfit! Again: if it doesn't feel like you, DON'T WEAR IT!!
*Click here for my "Accessories Inspo" Pinterest board!
*Click here for my "Hair/Makeup Inspo" Pinterest board!
See?! I told you it really does NOT need to be stressful! Your session is supposed to be something that creates memories for you + your partner & allows you to be vulnerable, raw, and authentically yourselves, no matter what that looks like. If you EVER feel nervous or uncomfortable, I'm here to change that, so you better let me know! It's my job to not only click the shutter button on my camera but to make this an incredible experience that you & your partner share. I hope this was helpful, and now it's time for you to go kick ass during your session!